Live Scan services powered by Certifix.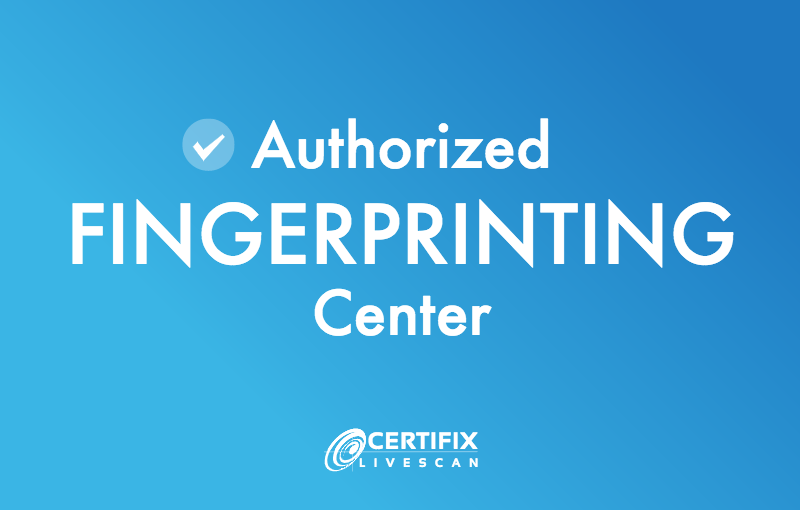 ROLLING FEE  $30
Please ask the requesting agency what fees will be added to the application
COMMON FEE SCHEDULES:
$32 – DOJ (Department of Justice)
$17 – FBI (Federal Bureau of Investigations)
$38 – BSIS Firearms Eligibility
Some live scan forms may come with additional state fees.
IMPORTANT NOTICE!
ALL SALES FOR LIVE SCAN SERVICE ARE FINAL!
If you do not know your agency information please call and request the correct application and information! 
The DOJ requires certified fingerprint rollers accept only current, valid, and unexpired picture identification documents as a primary valid identification.

Acceptable Primary forms of photo identification include any of the following:
Acceptable​ ​Primary​ ​Forms​ ​of​ ​ID 
● State-issued driver's license or State-issued ID
● U.S. Passport or U.S. Passport Card
● Federal Government Personal Identity Verification Card (PIV)
● Uniformed Services Identification Card
● Department of Defense Common Access Card
● Foreign Passport with Appropriate Immigration Document(s)
● USCIS-Permanent Resident Card (I-55I)
● USCIS-Employment Authorization Card (I-766)
● Federal,state,or local government agency ID card with photograph
● U.S. Coast Guard Merchant Mariner Card
● Canadian driver's license
● Consular Identification Card –  only valid for adoption purposes and nothing else.
In​ ​the​ ​absence​ ​of​ ​a​ ​primary​ ​form​ ​of​ ​ID,​ ​applicants​ ​may​ ​provide​ ​at​ ​least​ ​2​ ​secondary identification​ ​documents​ ​including: 
● State Government Issued Certificate of Birth
● U.S. Tribal or Bureau of Indian Affairs Identification Card
● Native American tribal document
● Social Security Card
● Court Order for Name Change/Gender Change/Adoption/Divorce
● Marriage Certificate (Government Certificate Issued)
● Draft Record
● School ID with photograph
● Certificate of Citizenship (N-560)
● Replacement Certificate of Citizenship (N-561)
● Certificate of Naturalization (N550)
● Replacement Certificate of Naturalization (N-570)


Secondary​ ​Identification​ ​Data​ ​Support​ ​Documents
When​ ​validating​ ​the​ ​authenticity​ ​of​ ​secondary​ ​identification​ ​documents​ ​and​ ​forms,​ ​the data​ ​and​ ​information​ ​may​ ​be​ ​supported​ ​by​ ​at​ ​least​ ​two​ ​of​ ​the​ ​following​ ​current​ ​documents: 
● Utility Bill (Address)
● Jurisdictional Voter Registration Card
● Vehicle Registration Card/Title
● Paycheck Stub with Name/Address
● Jurisdictional Public Assistance Card
● Spouse/Parent Affidavit
When supplemental documentation does not support the validation of the original identification documents, the certified fingerprint roller should not accept the form of identification as valid and not fingerprint the applicant.
IF YOU DO NOT PRESENT THE LISTED REQUIRED DOCUMENTS, WE CANNOT ACCEPT YOUR LIVE SCAN APPLICATION! WE DO NOT ACCEPT PHOTOCOPIES, PHOTOS, SCANS, EMAILS OR ANY OTHER NON PHYSICAL DOCUMENT.